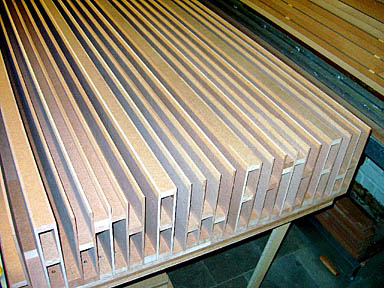 an asymmetrical QRD-13
in real life
and in sketch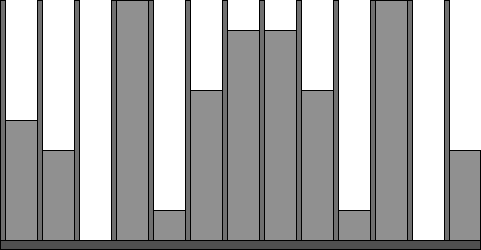 With a QRD-7 design
incorporating optimal proportions
between SW and MSD
and an unmodified depth-sequence
the theoretical working range
ALWAYS spans 2,75 octave
regardless of the chosen SW or MSD
The correct proportion between WW and MWD can be compromised in two ways:
by exceeding the maximum feasible design boundaries
for correct proportions (overdimensioning);

by not realizing the maximum feasible design boundaries
for correct proportions (underdimensioning)
When exceeding...
the design boundaries, the ideal proportion is also exceeded and compromised, either by too big an MWD, too small a WW, or both.
This means bad diffuser design. Diffusion is seriously compromised, as homogenity in the desired working range is corrupted.
Exceeding makes specifications look better, because both working range and efficiency seem to increase. Efficiency even exceeds 100%, which is totally impossible.

When not realizing...
these very same ideal boundaries of diffuser design, the MWD is too small and/or the WW is too big. The design is underdimensioned.

This may indicate bad diffuser design, although this not always the case.
It may also indicate a case of deliberate custom-design, limited in size and proportion for some particular reason. It might not have the correct depth to optimise its proportions all the way to 100% efficiency.
Yet -- and this is quite crucial compared to overdimensioning-- the remaining diffusion will be of impeccable quality, even if it occurs within a limited working range, because no limits were exceeded in the design. On the contrary! It is therefore not a bad design, whereas an overdimensioned diffuser always is a failure.



The N-number...
of most available diffusers is 7.
The conclusion that diffusers with higher N-numbers exist is therefore correct -- that is, with more wells per period. The depth sequence table revealed this earlier on...

A folded-well design indeed allows higher N-numbers, but everything quickly becomes very complicated, en then impossible to design on the drawing table.

A QRD-11 with (double) folded well can be realised.
This proves the plan for a prototype, below,
which is fully scale-correct on pixel level! (1 pixel = 1mm).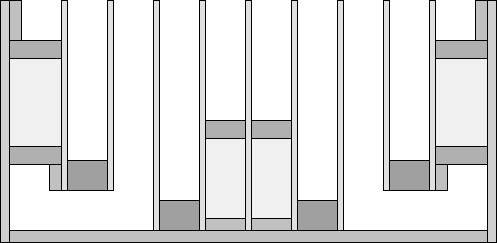 A QRD-7 design with an optimized proportion of WW and MWD ALWAYS has a working range that spans 2,75 octave, regardless of the chosen WW or MWD.

It is possible to design QRD's with a theoretical working range that exceeds 2,75 octaves. Choosing different depth sequences will change both ends of the working range, but will never change the proportion between WW and MWD! The net result will always be a working range of almost 3 octaves, no matter which depth sequence was chosen.

The best option for expanding the working range of a diffusers is to choose a higher N-number -- a QRD-11, -13 or even -17 and -19 belong to the possibilities. Without a doubt these panels (periods) will be quite wide , because it makes a big difference if 7 wells of 4 cm wide are incorporated in the diffuser, or 19 of them... A QRD-19 will thus have a panel width of almost three times that of a QRD-7 with identical well width.

Interesting data come up when theoretically perfect diffuser designs with different N-numbers are compared.
Note: MWD and WW are 100% in the comparisons below.
Only the N-number changes, and therefore fully determines
these theoretical working ranges: